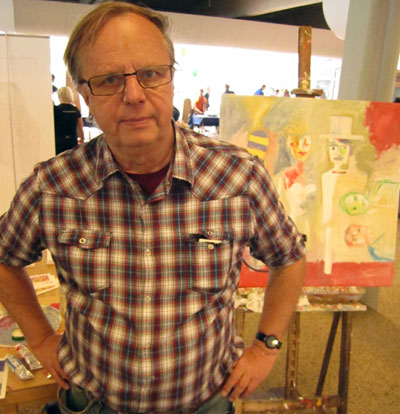 Born in 1943 (dead 2014) in the stirring surrounding of Jönköping, Sweden, a place that he still calls home, Gunder Höög started his incredible journey through to one of Sweden's most remarkable professional artists from the humble background of a local art teacher.
With the blood of his father Hans Höög, and his cousin Carl-Birger Höög, both successful artists running through his veins his future was never in doubt and his talents and confidence developed slowly but surely until 1992 when he made his first public appearance as an artist. With the inspired used of lines and color Gunder Höög creates a spectacle that reaches out and touches the viewer immediately. Gunder calls on his unbridled imagination and personal experiences to depict his impressively vibrant works with a narrative motif that can be seen as both satirical and playful.
Selected exhibitions and appearences
2013 Culture Center, Salle De Maalbeek, Brussels, Belgium. Salon Du Dessin Grand Palais. Paris, France.
2012 Salon Du Dessin Grand Palais, Paris, France. The Museum Of New Art, Pärnu. Estonia.
2008 Bjurbäcks Art Hall, Sweden.
2006 Art Exhibition For Galleries, Sollentuna, Stockholm, Sweden.
2005 Andreé Museum, Gränna, Sweden
2003 Aspa Herrgård, Aspa Bruk, Sweden Leif Holmer Gallery, Ekerum, Sweden (2000/2001/2002) E.R Ortenburg, Germany (2000), Alytus Theatry Gallery, Lithuania (1999), Swedish Embassy Vilnius, Lithuania (1999), Liljevalchs, Stockholm (1993/1996/1997) and many more.